17 Years Experienced Free Sample High Solvent Resistance PPS/Plastic Bonded NdFeB/Neodymium Magnet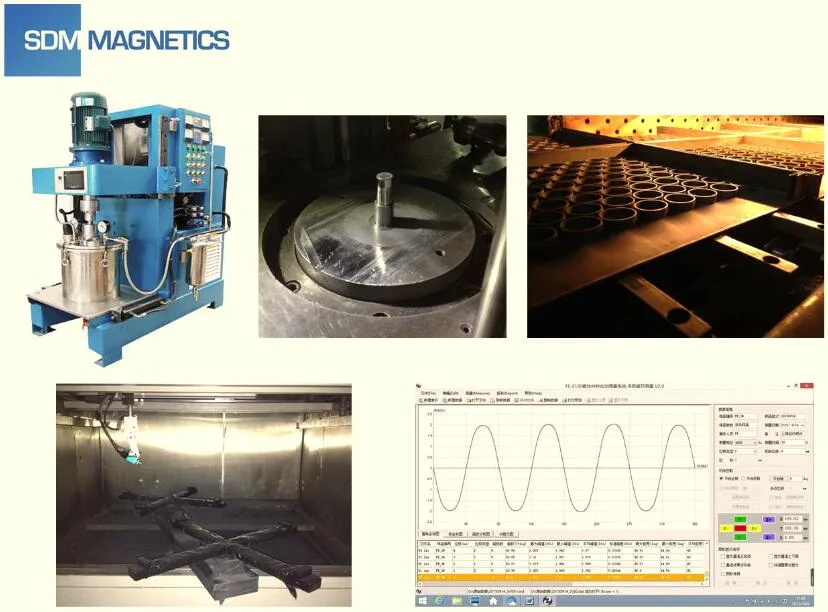 The process chart of NdFeB bonded magnet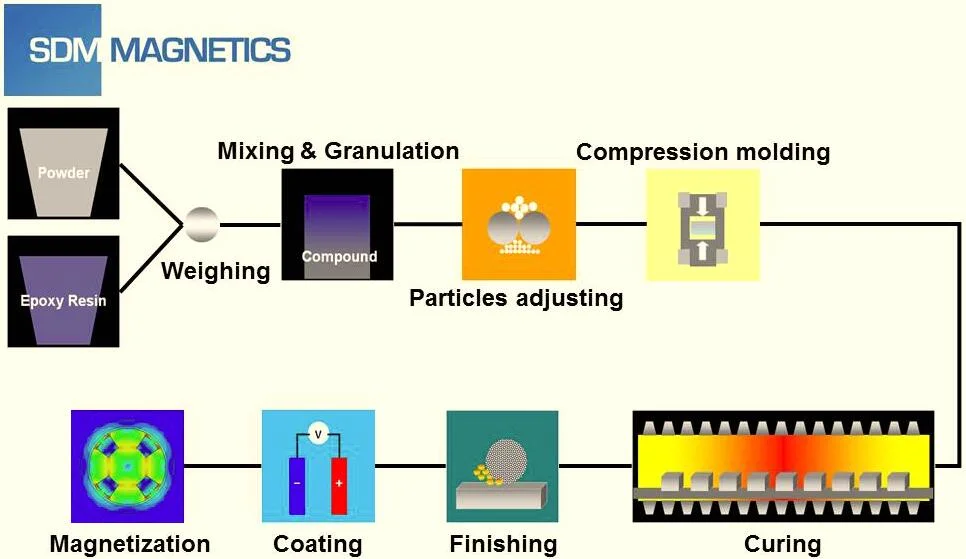 Infiltration technology of NdFeB bonded magnet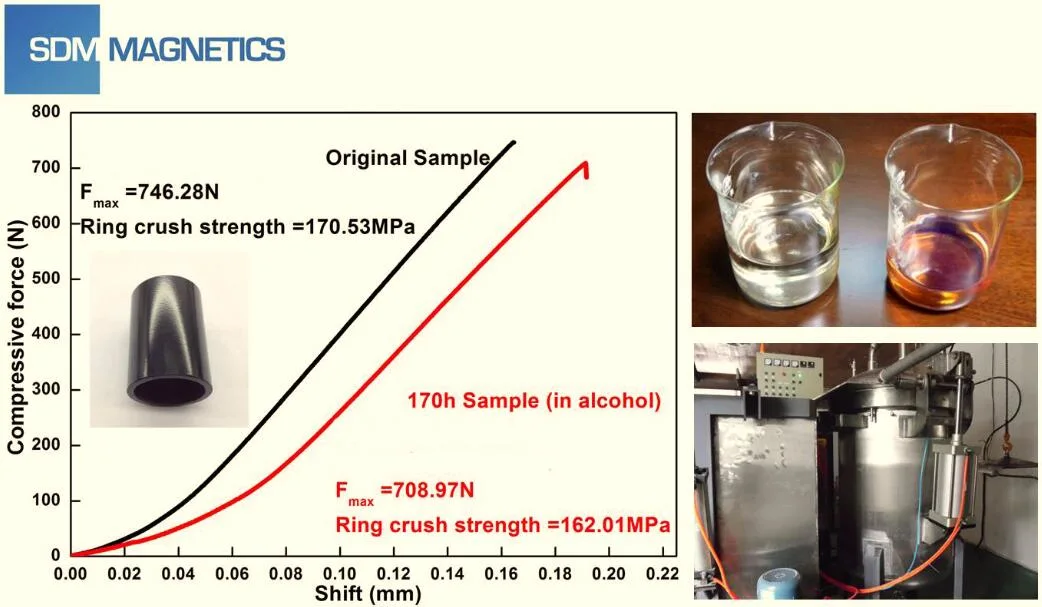 Magnetic properties of NdFeB bonded magnet
BN-2

BN-4

BN-6

BN-8

BN-8A

BN-9

BN-9H

BN-10

BN-11

BN-12D

BN-12L

Residual Induction

Br

mT

kGs

300-400

3.0-4.0

460-520

4.6-5.2

550-650

5.5-6.5

620-670

6.2-6.7

620-680

6.2-6.8

650-700

6.5-7.0

650-700

6.5-7.0

670-720

6.7-7.2

680-740

6.8-7.4

720-770

7.2-7.7

730-770

7.3-7.7

Coercivity

Hcb

kA/m

kOe

160-240

2.0-3.0

224-288

2.8-3.6

320-376

4.0-4.7

400-456

5.0-5.7

400-480

5.0-6.0

416-456

5.2-5.7

432-488

5.4-6.1

424-480

5.3-6.0

400-480

5.0-6.0

440-520

5.5-6.5

368-432

4.6-5.4

Intrinsic Coercivity

Hcj

kA/m

kOe

440-600

5.5-7.5

504-680

6.3-8.5

600-720

7.5-9.0

640-800

8.0-10.0

1040-1280

13.0-16.0

680-800

8.5-10.0

920-1040

11.5-13.0

640-800

8.0-10.0

640-800

8.0-10.0

720-880

9.0-11.0

520-640

6.5-8.0

Max. Energy Product

(BH)max

kJ/m3

MGOe

19-26

2.4-3.3

30-35

3.8-4.4

44-52

5.5-6.5

64-76

8.0-9.5

65-73

8.2-9.2

68-76

8.5-9.5

71-80

8.9-10.0

76-84

9.5-10.5

80-88

10.0-11.0

88-96

11.0-12.0

80-88

10.0-11.0

Density ρ

g/cm3

5.6-6.0

5.6-6.0

5.6-6.0

5.8-6.2

5.8-6.1

5.8-6.2

5.8-6.1

5.8-6.2

6.0-6.2

6.1-6.3

6.0-6.3

Recoil Permeability

μr

%/ºC

1.2

1.2

1.2

1.2

1.2

1.2

1.2

1.2

1.2

1.2

1.2

Tem. Coeff. of Br

ºC

-0.11

-0.11

-0.11

-0.11

-0.10

-0.11

-0.10

-0.10

-0.10

-0.10

-0.13

Curie Tem.

Tc

ºC

300

300

300

300

350

300

350

350

350

350

320

Max. Operating Tem.

Tw

ºC

160

160

160

160

180

160

180

160

160

160

120
Magnetization of NdFeB bonded magnet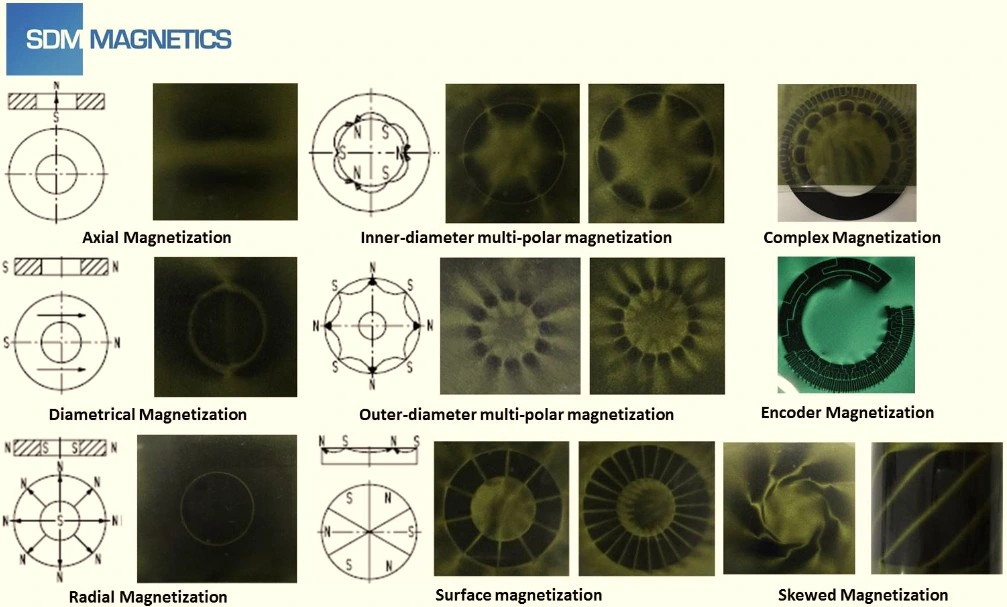 Surface treatment of NdFeB bonded magnet
Technology name

Introduction

Applicable scope

Feature

Electrophoretic Coating

The most commonly used technique in industry.

Applicability to most compression magnets.

Salt spray test: 48Hrs; Steady temperature damp test: 240Hrs

Excellent oil resistance and solvent resistance;

Smooth surface.

Spray Coating

Spray the epoxy anti-corrosion paint to compression magnet's surface.

Apply to small sized work pieces, especially for arc-compression magnets.

High-effeciency & Good consistency & High passing rate;

Salt spray test: 24Hrs; Steady temperature damp test: 240Hrs.

Anti-rust Oil Dipping

Anti-rust film can greatly improve compression magnet's anti-rust capability.

Especially suitable for small inner-diameter's compression magnet.

High-effeciency;

Simple process;

No dimension change.

Infiltration

Infiltrate anaerobic adhesive into compression magnet's voids by negative pressure.

Apply to extreme environment, such as oil or solvent.

Seal magnet's voids;

Improve strength;

Make it possible to work under oil or solvent for a long time.
Exhibition
•

We Will Join

CWIEME Berlin

every year;


•

We Will Join

HANNOVER MESSE

every year;


•

We Will Join

CWIEME Chicago

every year;
Shipping & Payment
•

We have contract price with

FedEx, DHL, UPS

and

TNT

.


•

We have our own

Sea

and

Air forwarder

Will Give you the best support about the freight fee.



•

We accept

T/T

,

Paypal

,

Western Union

,

ESCROW

and

L/C
SDM Reliability & Certificates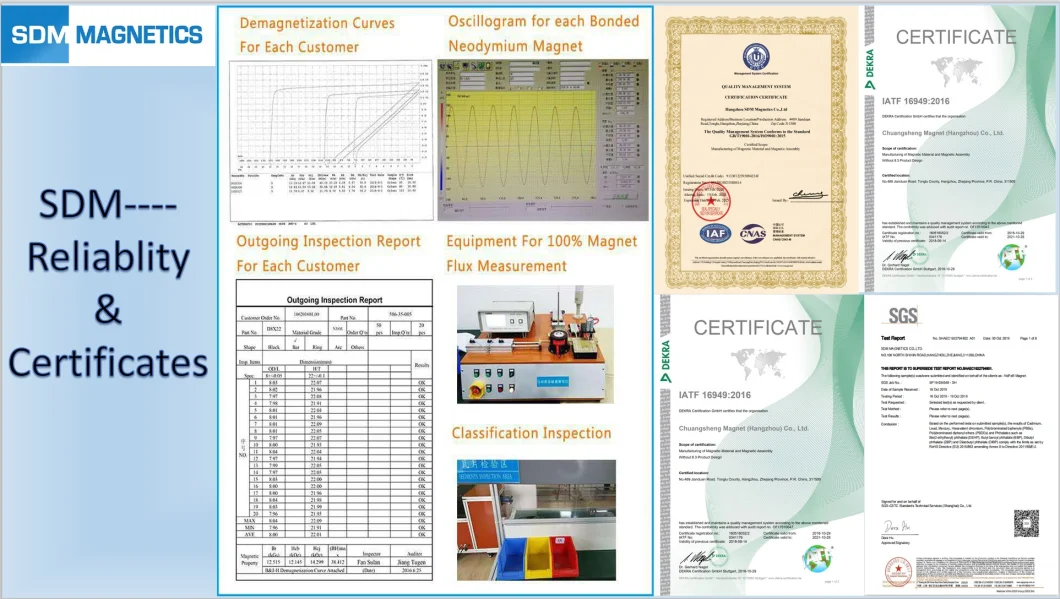 Standard Packaging & Factory
•

Vacuum packaging

for all Neodymium magnets and Neodymium magetic assemblies.
•

Shielding box

and wooden box to protect the Neodymium magnets during shipping.
Shipping Methods
• Contract price with

FedEx, DHL, UPS and TNT

to minimum your shipping cost.
• Experienced shipping forwarder for

Ocean and Air shipments

.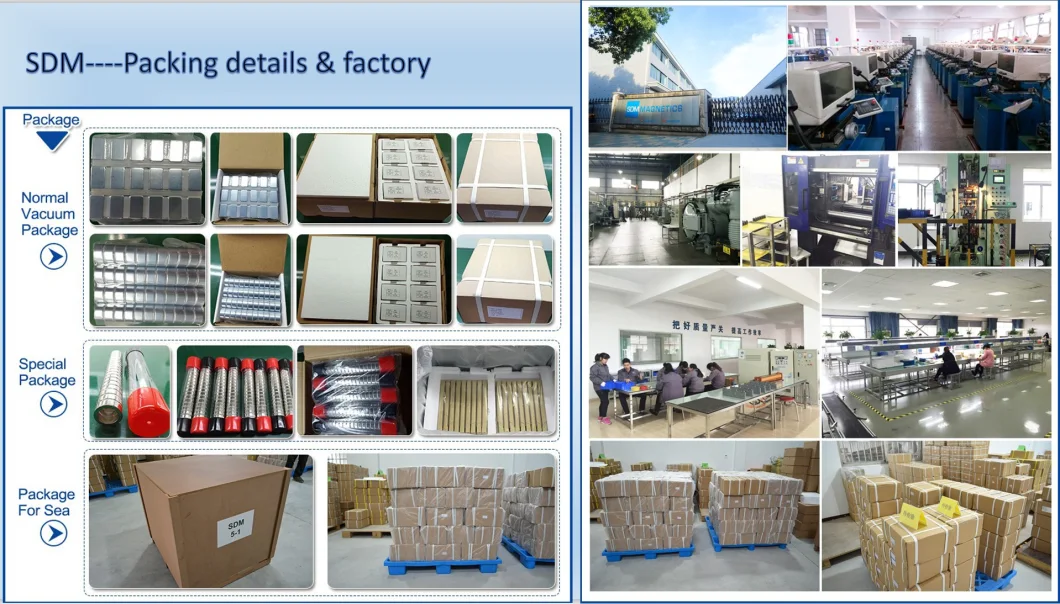 Company Information
SDM Magnetics Co., Ltd. is a leading Chinese manufacturer of high performance permanent magnets and magnetic assemblies with ISO9001:2008, ISO/TS 16949 and ISO14001 certificates. SDM serves a variety of markets from consumer electronics, industrial automation, automotive, green energy, household appliances, medical, aerospace and telecommunications. SDM's magnets are used in motors, speakers, generators, sensors, compressors, MRI, magnetic chucks and separators etc.
To meet the more and more demanding markets, SDM has been concentrating on manufacturing technologies for quality stability and cost reduction. Since 2010 the company has been supplying magnets to General Motors' OEM with 0 PPM. With Dysprosium infiltration technology, we are able to offer competitive prices for high grade Neodymium magnets. The company has also built up a strategic cooperation with China's No.1 rare earth miner CHINALCO, which gives us strong and safe backup for rare earth raw materials.
SDM Magnetics now manufactures a comprehensive range of magnetic products including:
·Neodymium Magnet
·Injection Molding Magnets
·Samarium Cobalt
·AlNiCo (Aluminum Nickel Cobalt)
·Magnetic Assemblies
Over the last ten years SDM export 85% of its products to American, European, Asian and African countries.With such wide range of magnetic material options, our professional technicians are available to help solve your magnetic needs and choose the most cost effective material for you.

How to Find us ?
Our manufacturing plants are located in Tonglu, Hangzhou which are only one hour by car from Hangzhou airport or railway station.
We are also only one hour by train from Shanghai or Ningbo, pickup and drop off at Hangzhou Air/Train stations are available if you are traveling to Hangzhou from other cities in China.

FAQ
1: How fast can I get a reply?
You will receive our reply within 15 minutes during our work time 08:00 - 18:00(UTC-8).
2: Can I get free samples?
Free samples are available at SDM warehouse. However it may take minimum 7 days for production if your size is not on our stock list.
3: Are you able to offer best prices?
Magnets are functional products, the costs depend on how strong the materials you need. We believe the most suitable is the best, therefore SDM is keen to offer best prices to meet your target.
4: Are you able to provide best quality?
At SDM you receive products under guarantee of ISO9001, ISO/TS16949 systems.
5: What are your best lead-times?
Immediately shipments are available for stock magnets. For fresh materials, we need 7-15 days for production.
6: How can you make sure that my money is safe with you?
As an Alibaba Trade Assurance member, your funds are under protection of Alibaba group. Payment will not be released to vendor until buyer confirms receipt and good material of delivery.
Professional manufactures of NdFeB bonded magnet