SCR EPM/EPM2 series compressors is designed to help customer save more energy and reduce operation cost.
The air capacity is 16.3m3/min@7bar,16m3/min@8bar, The performance is certified by SGS.
| | |
| --- | --- |
| Model : | Energy Saving Series (EPM2) |
| Type: | Oil Injected Permanent Magnetic Screw Compressor |
| Voltage: | 380V/50HZ/3P, 220V/60HZ/3P, 400V/50HZ/3P, 415V/50HZ/3P or Customer′s Requirements |
| Working Pressure: | 7bar/8bar/10bar |
| Installed Motor Power: | 18.5~110 Kw |
| Air Capacity | 16.3m3(576CFM) |
| Driven Method: | Taper Connection Direct Driven |
| Air End: | High Efficiency Airend |
| Trademark: | SCR |
| Transport Package: | Standard Wooden Packing |
| Available Certificate: | CE, ISO, UL, ASME, GHOST |
| Origin: | Shanghai, China |
| application: | Packing,Painting,Precision Electroplating,Peparing |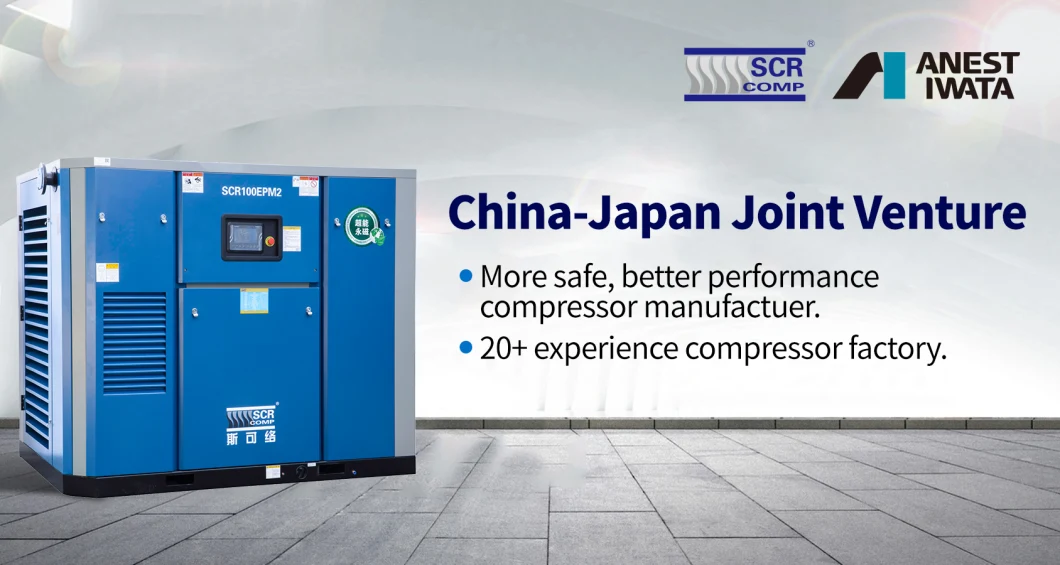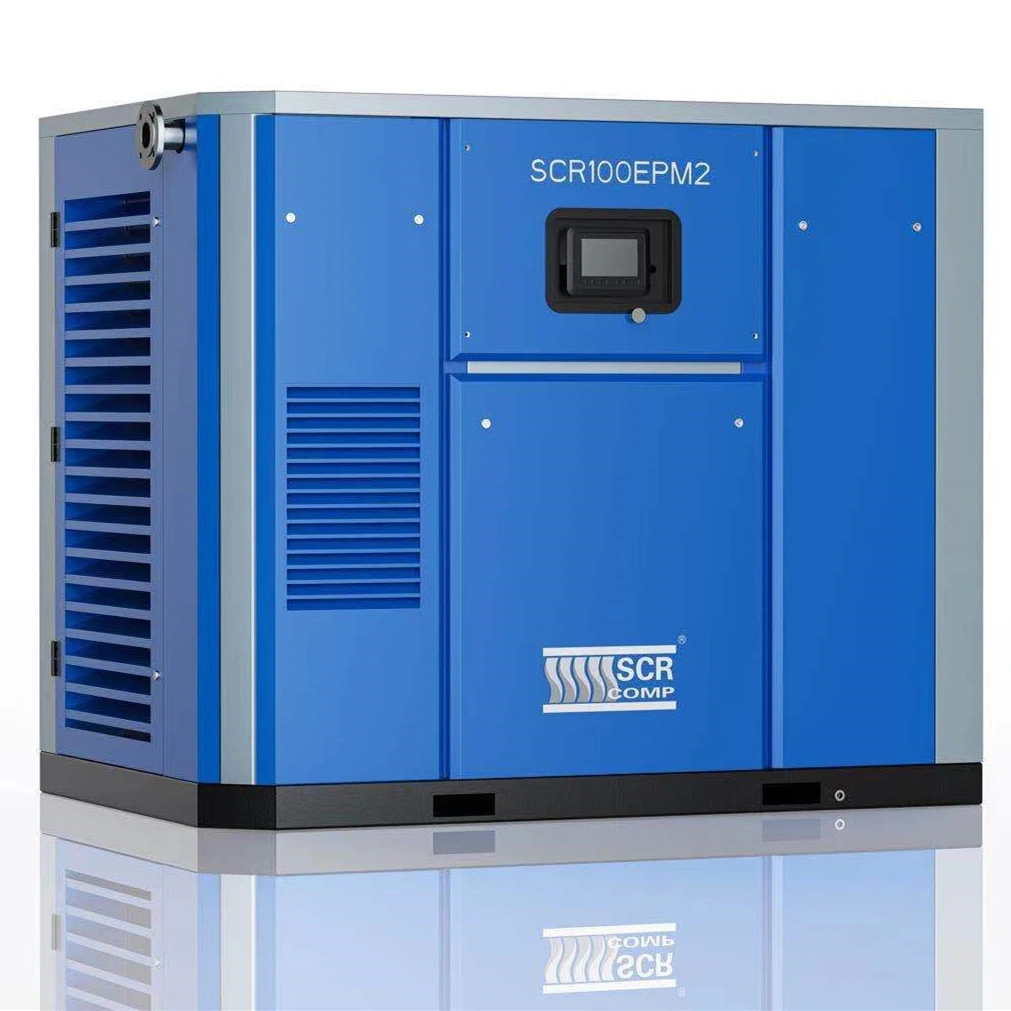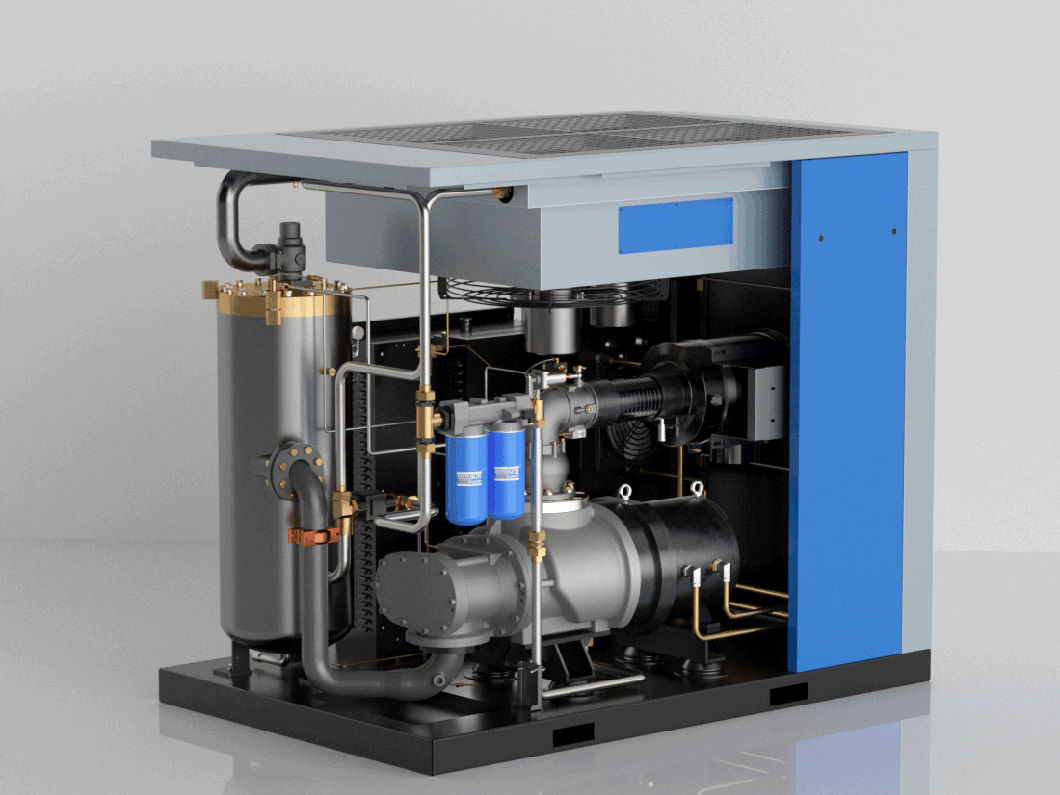 Advantages:
1. China-Japan latest technology cooperation, high reliability.
2. Oil Cooling Permanent Magnetic Motor.
3. IP65 protection grade & heavy duty air filter, suitable for high dusty environment.
4. IE4 Efficiency motor efficiency.
5. Most energy saving mode, Only work at loading.
6. Wide frequency range 25%-100%.
7. Premium Magnetic material resist more than 180 temp.
8. Reliable PM motor supplier from Italy.
9. Direct Taper connection, no transmission power loss, easy maintenance.
10.Touch Screen PLC with preset running schedule, more intelligent control.
11. Both main motor and fan motor are inverter control, more accurate control.
12. Easy for installation and service.
13. Fantastic Energy Saving, save up to more than 30-40%.
HIGH QUALITY PM MOTOR

The motor winding take use of new technology vacuum expoxy potting process, it increase the thermal conducivity and motor insulation protection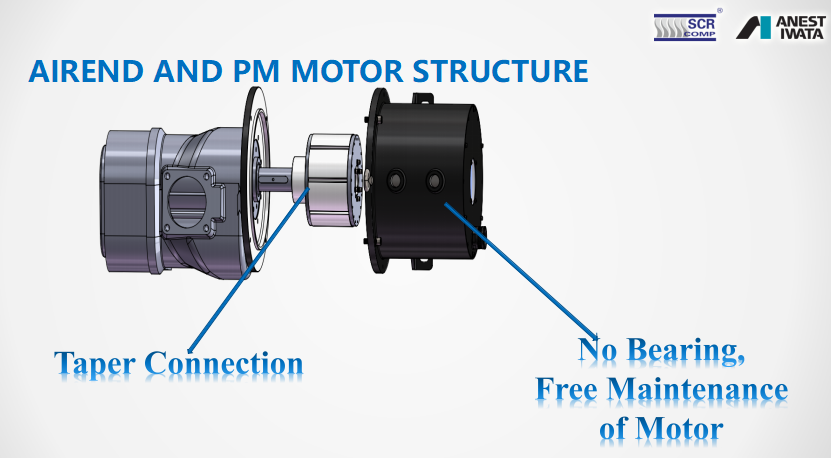 PM MOTOR COOLING
Liquid Cooling, IP65 PM Motor. Indepent cooling system.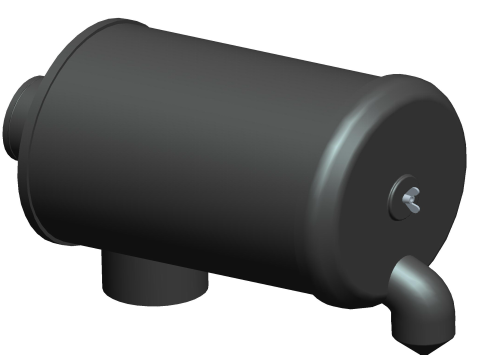 SCR heavy duty air filter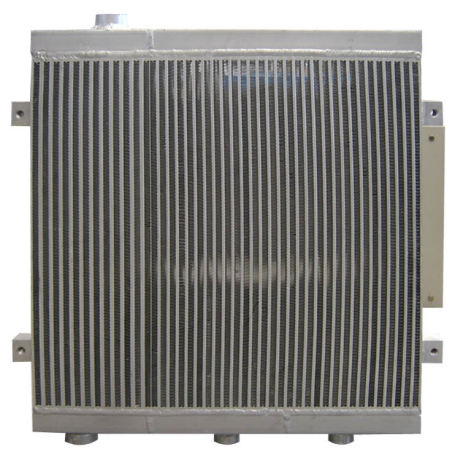 LATEST TOUCH SCREEN PLC
* 7" Inch touch screen display.
* Full feature protection.
* Multi intelligent control, like running schedule.
* Support Modbus RTU.
* Remote monitoring is option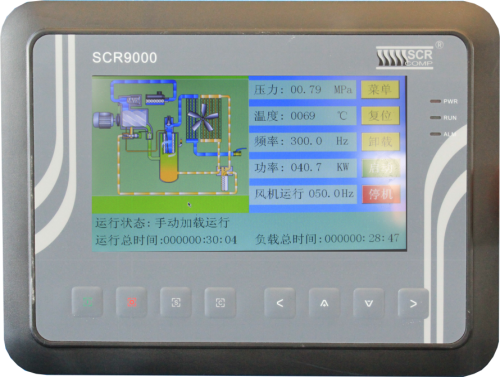 LATEST V/F Inverter
* Latest V/F technology Inverter.
* CE/UL Certificed Inverter.
* Both Motor are inverter control.
* High reliable inverter brand proofed in the market.
* Professional service support.
* Automatic airend speed adjust to match your air demand, help good energy saving

Why Choose EPM2



PERFORMANCE COMPARISON VSD
Model

Rated Pressure

(BAR)

Capacity

(m3/min)

Motor Power

(kW)

Specific Power

(kW/(m3/min))

Electric Power cost

(kW/m3)

Energy Saving %

SCR100EPM2

8

16

75

6.19

0.1031

Traditional 100HP VSD

8

13

75

6.9

0.115

11.5%

Traditional 100HP VSD

8

16

90

6.75

0.1125

9.1%
10% better performance compare with traditional compressor.
PERFORMANCE COMPARISON FIXED SPEED
Acutal Electric Power cost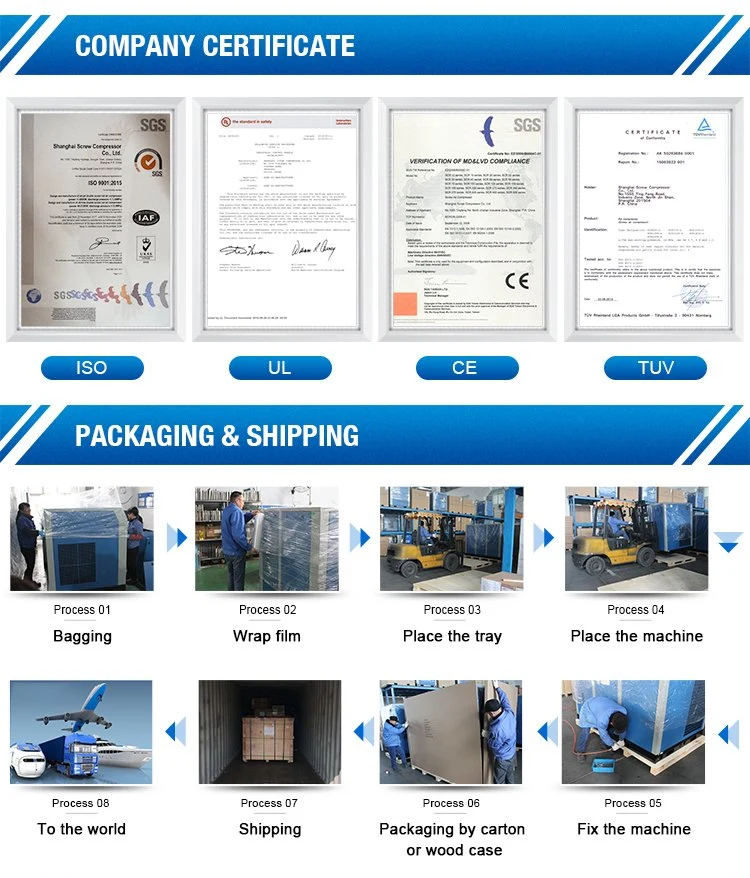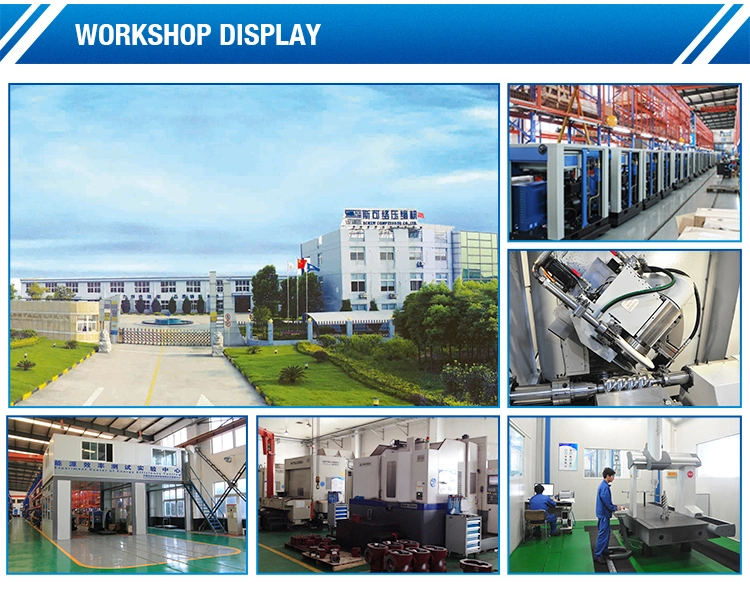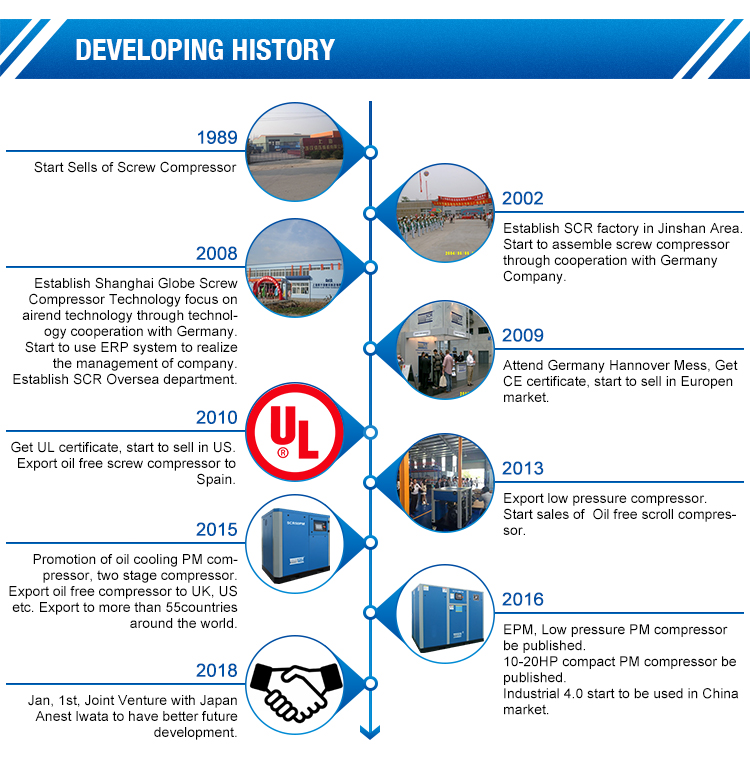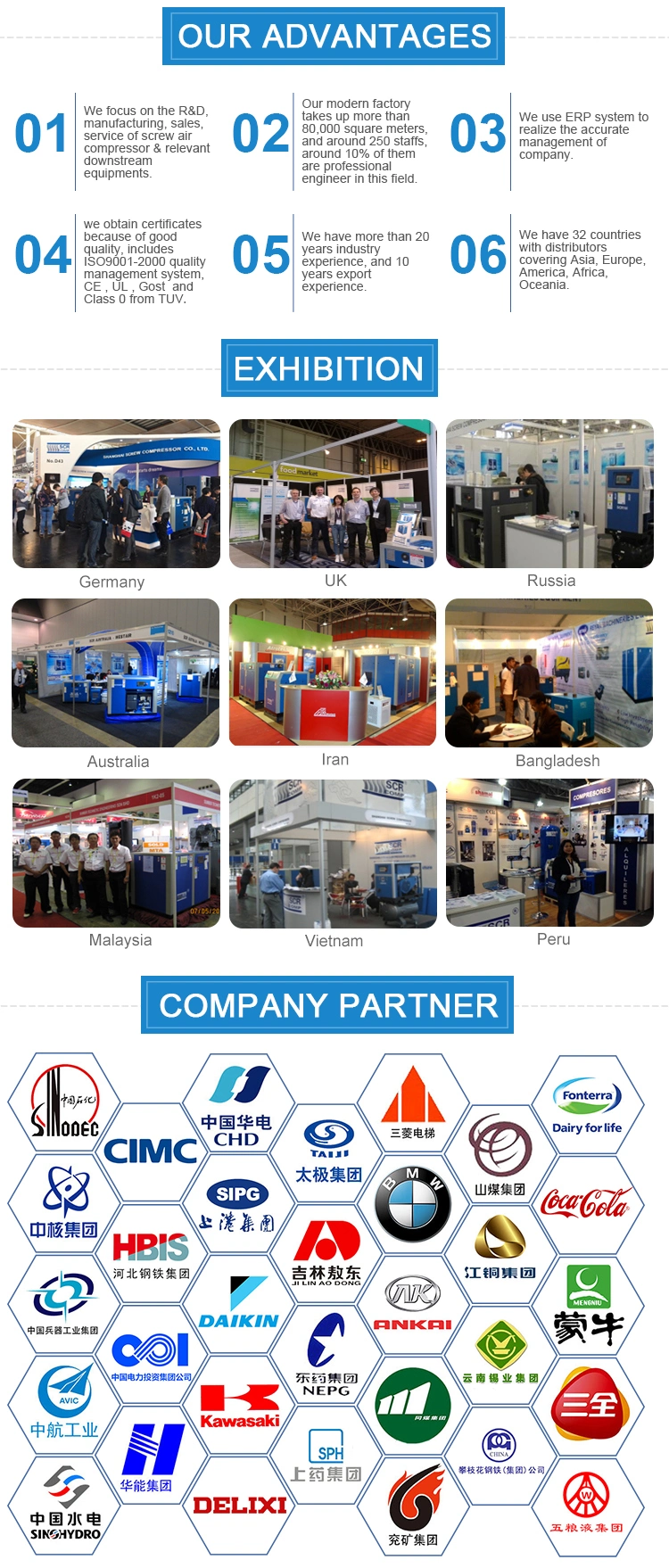 1 What trade terms do we provide? What kind of settlement currency do we offer?
Trade term :CIF ,CFR ,FOB,Ex-Works As far Our business traded in Dollars ,Euros and RMB .

2 How long is our delivery?
Our standard delivery time is 30-40 days after confirmation order & receiving recipets for standard compressors, for the other non standard requirement will be discussed case by case.

3 What is the voltage of the compressor?
The available voltage include 380V/50HZ/3Phase, 400V/50HZ/3P, 415V/50HZ/3P, 220V/60HZ/3P, 380V/60HZ/3P, 440V/60HZ/3P. At the same time we provide other voltage according to customer requirement.

4 Can our compressor run in high temperature environment? What is the working temperature range for our machine?
Yes ,our machine would run in high temperature environment ,until now our products have been sold to many countries which wouldmeet high temperature in summer ,such like Iraq, Saudi Arabia, Egypt, Algeria, etc. Work temperature range :1-45 (33.8-113)

5 What's the min. Order requirement ?
Min. Order requirement is 1PCS.