Description of Neodymium Countersunk Pot Magnet Cup Magnet With Countersunk Hole:
Powerful Rare Earth Countersunk Pot Magnets: Made of strong rare earth Neodymium Magnet, uniquely design to have magnet sits inside a hard steel cup to provides excellent mechanical properties and durability.
These super magnets could be used for assembly at Home, Business and Schools, Science Projects, Workshop, Office for art projects, craft and Much More...
Neodymium Countersunk Pot Magnets can be easily installed: The screw can be easily screw into wooden surface with screw head sitting flush with the magnets surface. The counter sunk hole on the magnet works well with flat head screw to affix onto any surface.
The coating of neodymium countersunk cup magnet is NiCuNi, and Nickel-Copper-Nickel ( NI+CU+NI ) triple layer coating, is best coating available in market for superior durability to counter pure Neodymium oxidation properties.
1. Grade of Neodymium Magnet: N35-N54, N35M-N52M, N33H-N50H, N30SH-N50SH, N30UH-N50UH, N30EH-N42EH, N28TH-N38TH
2. Shape and Size: Round, Rectangle, Special Shapes etc, all sizes or shapes can be customized.
3. Coating: Nickel, Zinc, Black Epoxy, Color Painting etc.
4. Direction of Magnetisation: Axially, Radially, Thickness etc.
5. Application: Holding tools, keychains, metal parts, lights etc.
Production Time of
Neodymium Countersunk Pot Magnet Cup Magnet With Countersunk Hole
:
Samples are available, and lead time is 3-15 days, based on material and dimensions. Free samples are also ok if we have samples of neodymium countersunk pot magnets in our stock. Production time of batch order is 15-30 days except large quantity.
Details About Neodymium Pot Magnets NdFeB Magnet Holder Rare Earth Magnet Pot: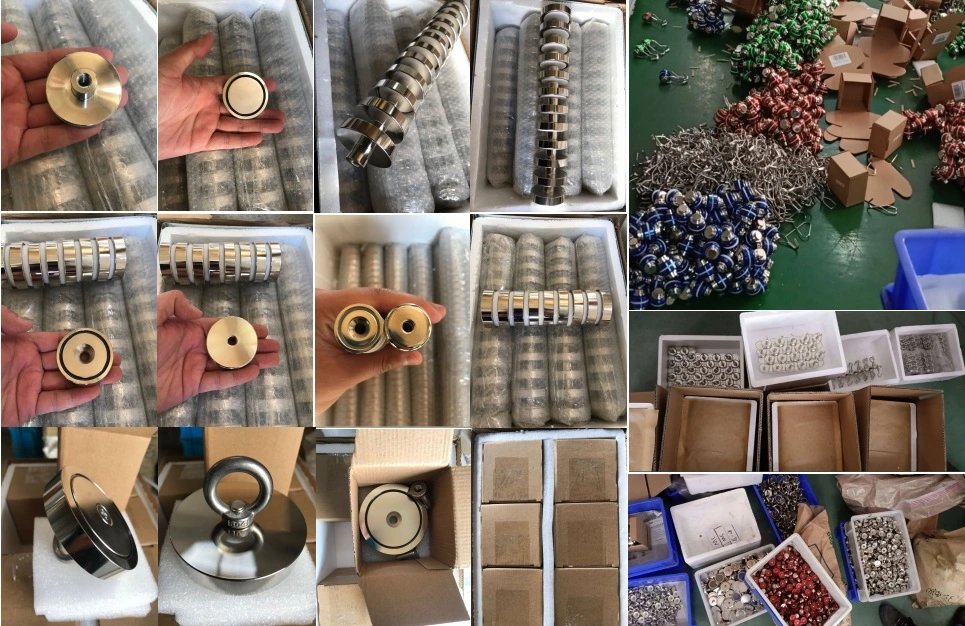 Below are our standard sizes of
Neodymium Fishing Magnet Rare Earth Magnetic Fishings
, you can shoose the one you prefer. If you have specific requirements about dimensions or pull force, please contact us directly, and our engineers will design it for you: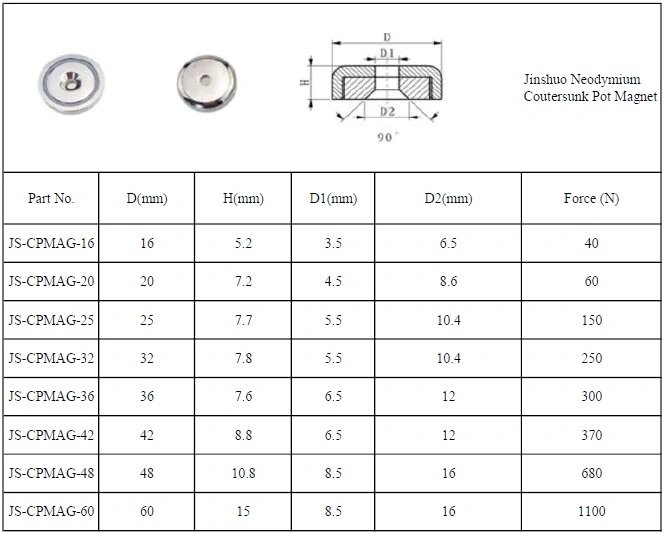 Inspection of
Neodymium Countersunk Pot Magnet Cup Magnet With Countersunk Hole
:
Normally neodymium countersunk pot magnets will be sampling inspected when they are finished.
If you have requirements about inspection, like full inspection, we will also do it for you.
Pictures of finished magnets, package, demagnetizing curves, inspection report will be provided when goods are ready.

Package and Shipping Methods:
Standard Export Package, such as shielding carton, wooden case, pallet etc.
Goods will be sent out by Express ( UPS, DHL, Fedex, TNT ), By Air, By Sea etc.



Enquiry About
Neodymium Countersunk Pot Magnet Cup Magnet With Countersunk Hole
:
In order to get a suitable quote quickly from us, please provide us:


1. Dimensions of neodymium countersunk pot magnet you need, drawing will be perfect.
2.

Requirements about pull force

or your application.
3. Coating: Nickel, Zinc, Cr, Epoxy, Color etc.
4. Quantity
5.

Shipping Method

, By Express, By Air or By Sea.
6.

Other requirements

(Package, Inspection etc)