Over 15 Years Experience Neodymium Magnet Manufacturer
8 Years Vertified Golden Supplier In Alibaba
100% Satisfaction Guaranteed On Quality
Samples and Trial Orders Are Most Welcome

Rare Earth Block N52 Neodymium Permanent Magnets
Type

Permanent Sintered Neodymium Magnets/Rare Earth Magnet

Material

NdFeB

Shape

Block,Bar,Cube,Disc,Ring,Cylinder,Ball,Arc,Trapezoid,etc

Size

Customized according to customer's request

Coating

Ni,Zn,Epoxy,Parylene,Gold,Passivated,etc

Density

7.5-7.6 g/

cm³

Delivery date

7-10 days for common samples,15-20 days for mass production

Magnetic Grade




&




Working Temperature

Magnetic Grade

Working Temperature

N35-N45

80

ºC

(176

ºF

)

N48-N52

60

ºC

(160

ºF

)

35M-52M

100

ºC

(212

ºF

)

33H-50H

120

ºC

(248

ºF

)

33SH-45SH

150

ºC

(302

ºF

)

30UH-40UH

180

ºC

(356

ºF

)

28EH-38RH

200

ºC

(392

ºF

)

28AH-33AH

220

ºC

(428

ºF

)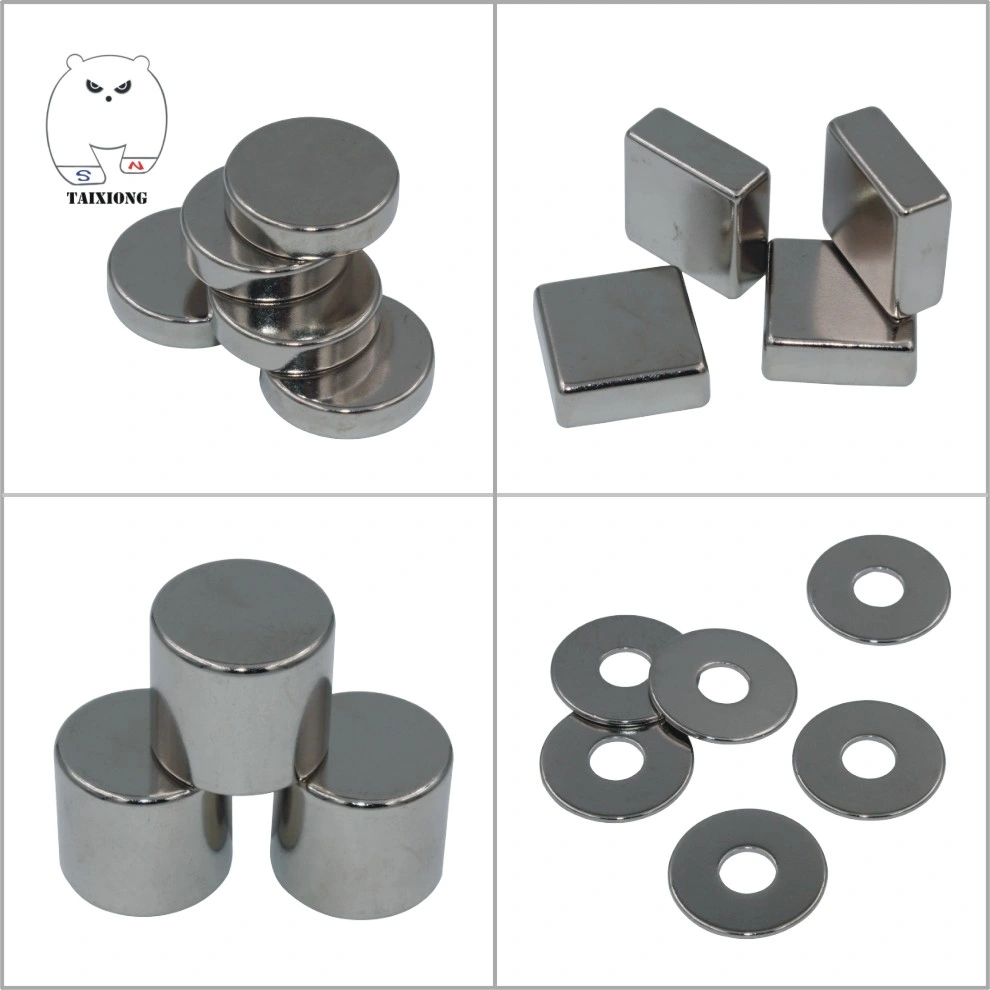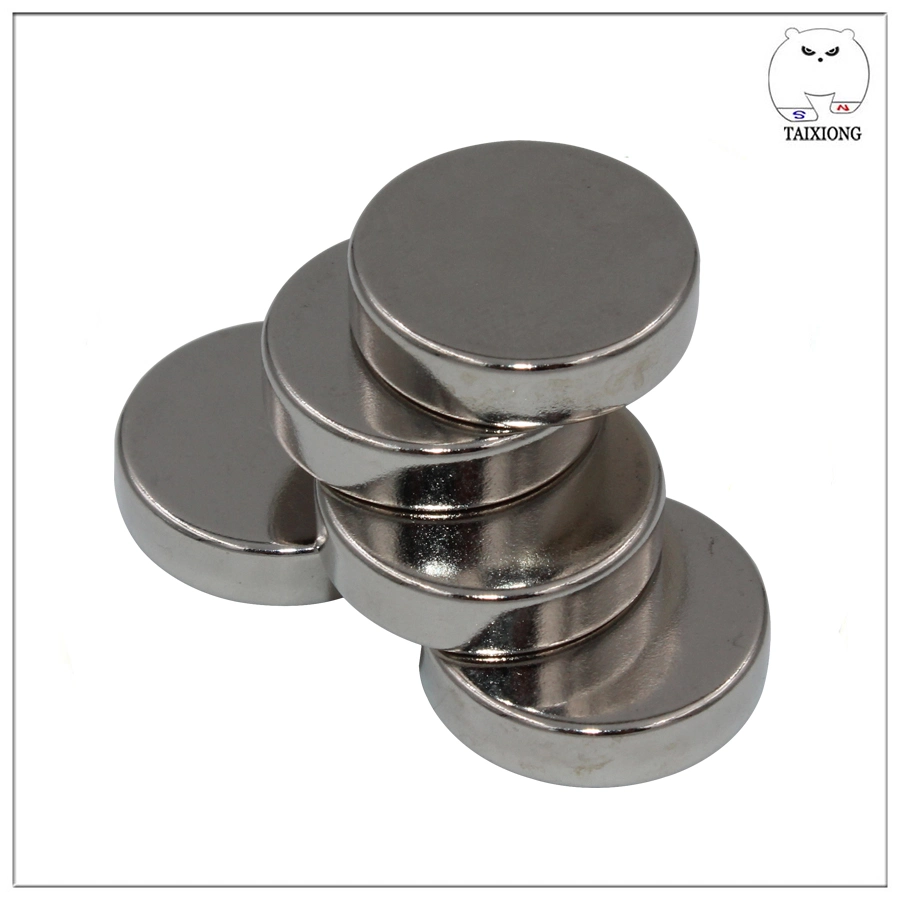 Why choose us

1. FLOW CHART
From the raw material to finished product,
all the processes are completed in our factory,
and are under our strict control.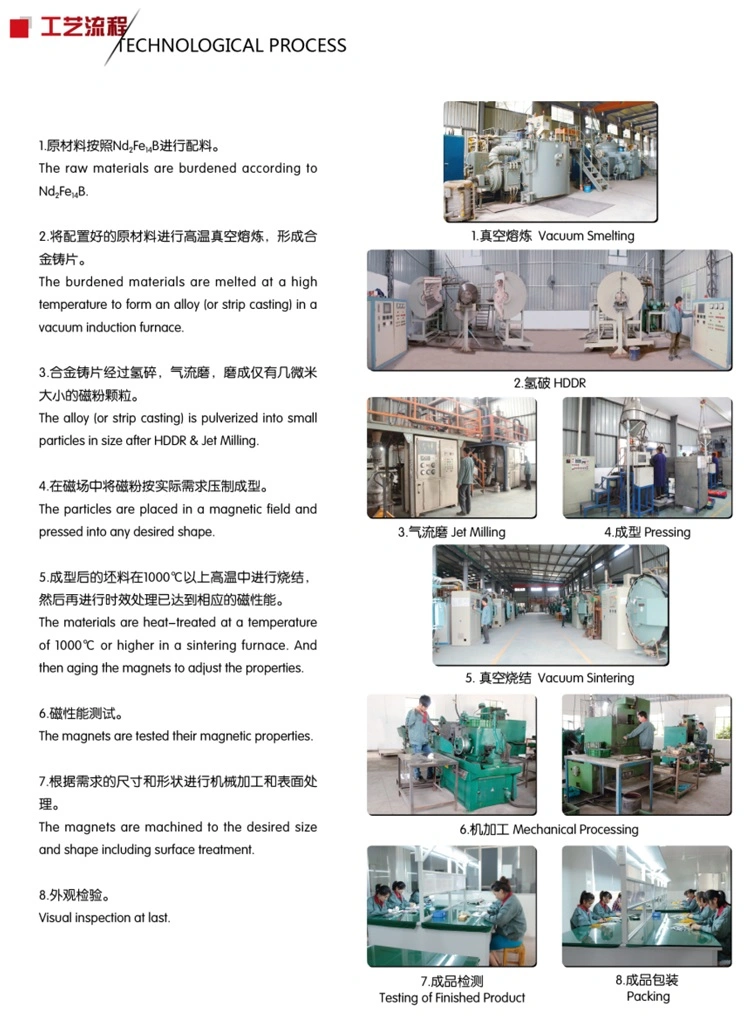 2. QUALITY CONTROL
1> Magnet will be inspected strictly during the production of every process.
2> Every magnet will have a certificate before delivery.
3> Magnetic Flux report and Demagnetization Curve can be offered according to request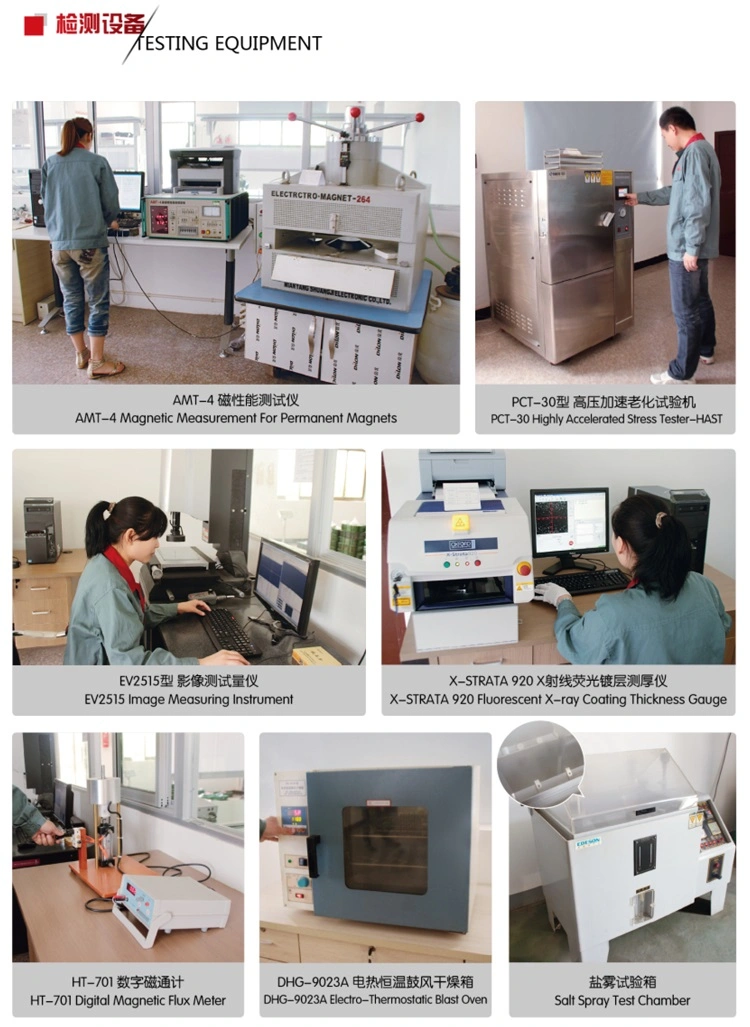 3. CORE ADVANTAGE
1> Cutting-Edge Technology
Self-Developed Key Equipment, Unique Manufacturing Process, Energetic R&D Team.
2> Full Scale Production
Capacity 200 tons, Specialized Factories.
3> The Integrated Industry Supply Chain.
4> Outstanding Product.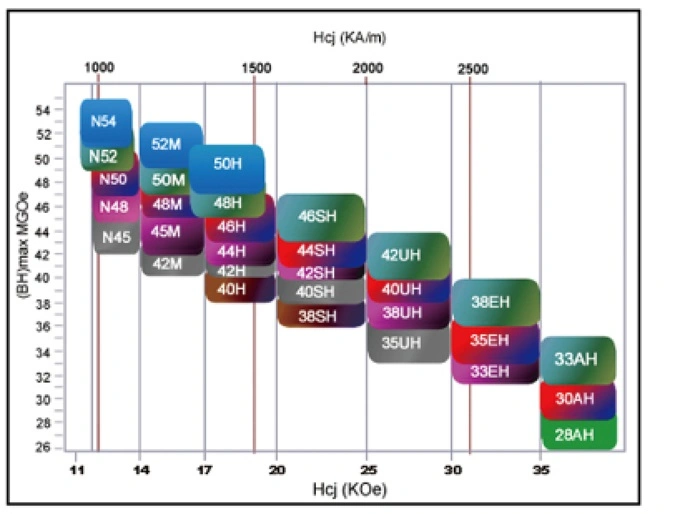 1> High performance: N54 N52M N50H 46SH 42UH 38EH 33AH etc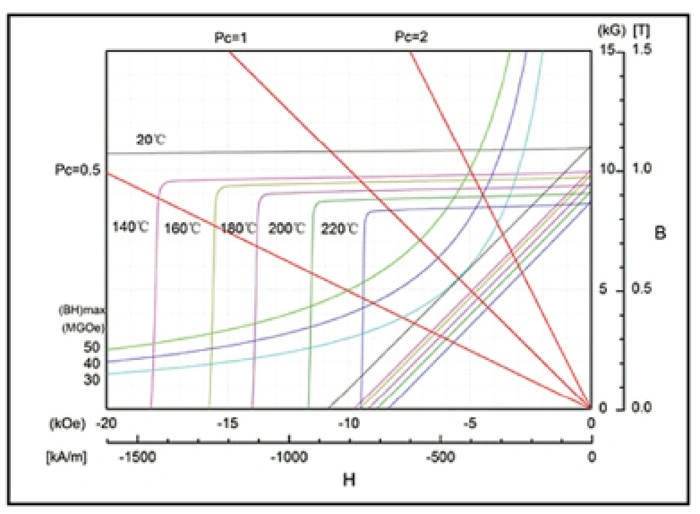 2>High Working Temperture:The AH series with 40KOE super-high coercive force can replace Smco magnets in most applications




3>High Consistency
The Cpk of Remanence (Br) and Intrinsic Coercive Force (Hcj) are much higher than 1.67.
The Consistency of the surface magnetic field and magnetic flux can be controlled at +/-1%.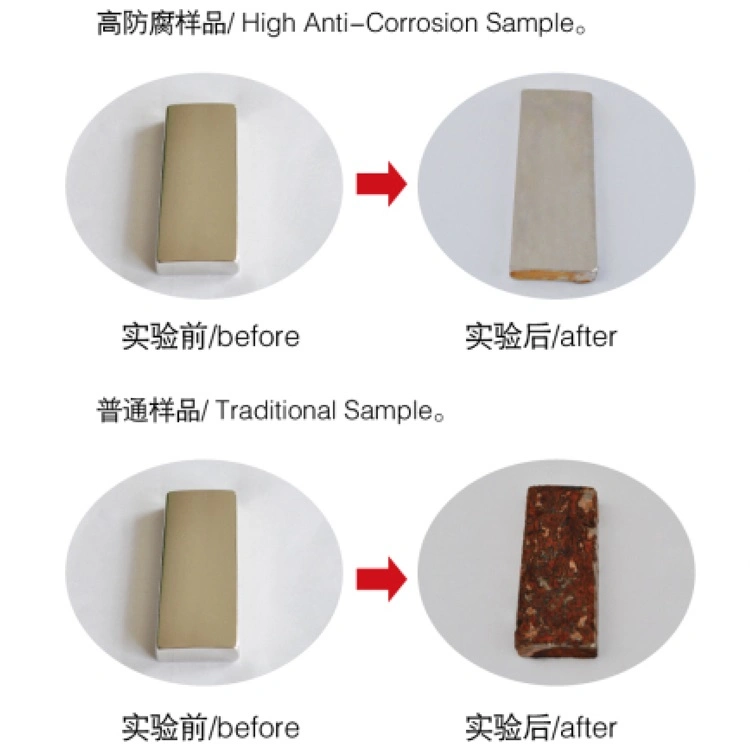 4>High Anti-Corrosion
The salt spray test and humidity heat test of the high
anti-corrosion coating Nickel+Copper+Epoxy is typically more than 500 hours.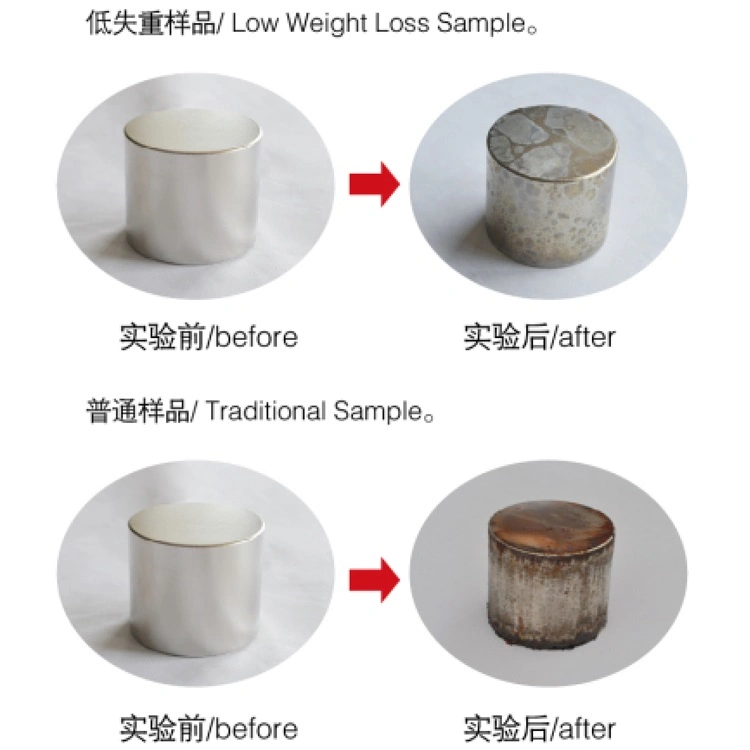 5.Low Weight Loss
PCT: 130°C, humidity 100%, vapor pressure 2.7 bar,
20 days, average low weight loss <2 mg/cm2.

4. DEMAGNETIZATION CURVE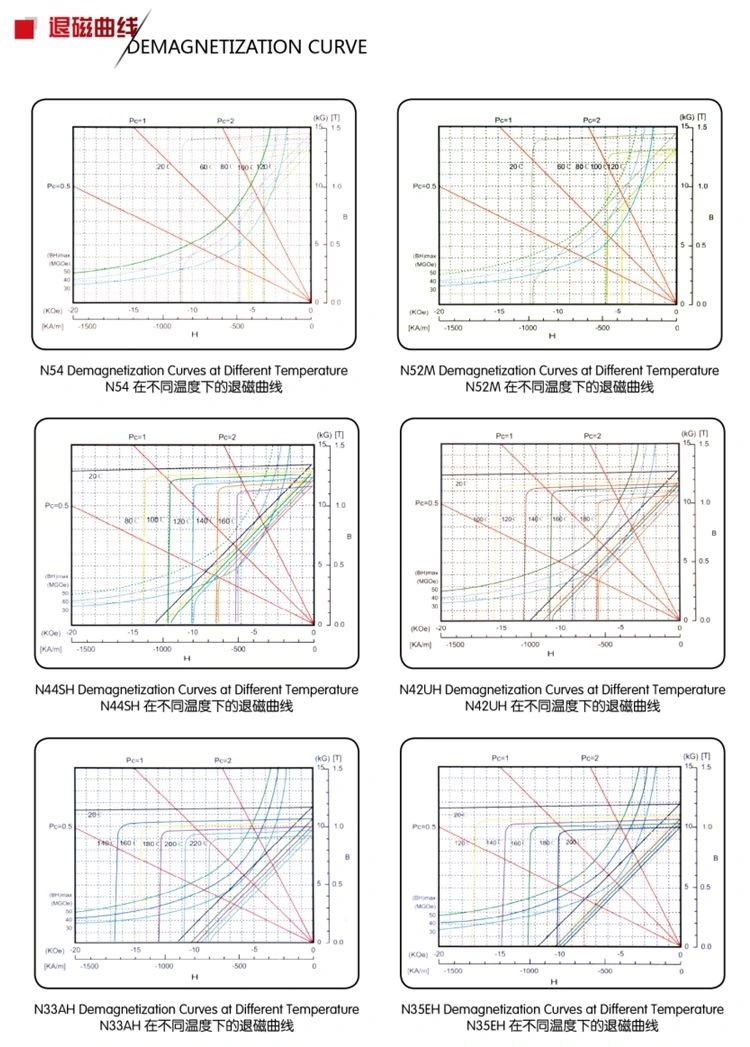 5.APPLICATION
The sintered neodymium-iron-boron (NdFeB) permanent magnet is widely used in
permanent magnet servo motor, permanent magnet elevator tractor, wind driven generator,
permanent magnet linear motor, permanent magnet step motor, permanent magnet micromotor,
permanent magnet oil field motor, permanent magnet transducer, permanent magnet loudspeaker,
electronic component, medical equipment and so on.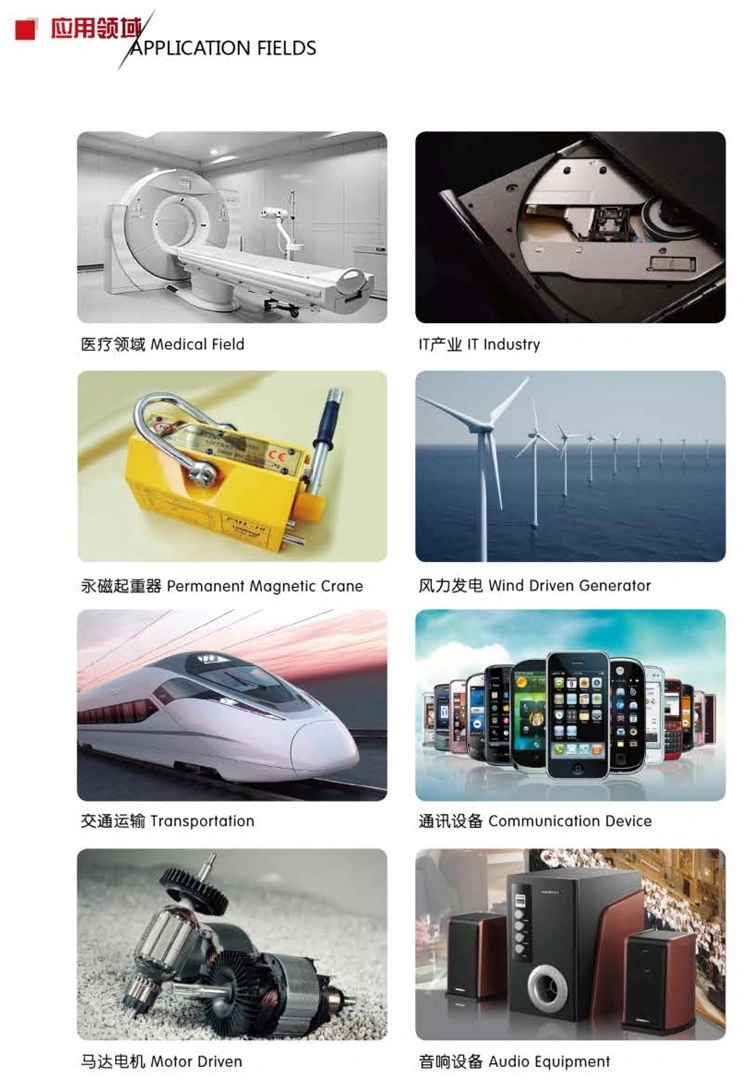 Magnetization Direction
Common direction of magnetization showed in picture bellow:
1> Disc, cylinder and Ring shape magnet can be magnetized Axially or Diametrically.
2> Rectangle shape magnets can be magnetized through Thickness, Length or Width.
3> Arc shape magnets can be magnetized Diametrically, through Width or Thickness.
Special direction of magnetization can be customized as required.