cylindrical neodymium magnets n48 strength of neodymium magnets
USP:
Size:
as Client's Request

Grade:N48

Coating: NiCuNi

Max Operating Temperature: 80

ºC

Coating:

as Client's Request
Lead Time:2-22Days
Samples: Yes

Certificate: CE/ROHS/SGS

Payment:

T/T, PayPal, Western Union

Description

Sintered Rare Earth Magnets

Material

Neodymium-Iron-Boron

Working Temperature

Grade

Max. Operating Temperatures

N35-N52

80°C (176°F)

33M- 48M

100°C (212°F)

33H-48H

120°C (248°F)

30SH-45SH

150°C (302°F)

30UH-40UH

180°C (356°F)

28EH-38EH

200°C (392°F)

28AH-35AH

220°C (428°F)

Magnet Shape

Disc, Cylinder, Block, Ring, Countersunk, Segment, Trapezoid, Irregular shapes and more. Customized shapes for

Rare Earth Magnets

are available.

Magnet Coating

Ni-Cu-Ni, Nickel, Zn, Gold, Silver, Copper, Epoxy, Chemical, PTFE, Parylene, Everlube, Passivation and more.

Technology Advantage

Depending on advanced R&D center, Quality control team and professional machining technicians, we can surpass our competitors in the stability of quality and superiority of property.

Delivery Advantage

The lead time must be

2-5 days quicker

than industry average because of more flexible machine process control.

Price Advantage

The price is

5-10% cheaper

than industry average because of an excellent and efficient management system.

Application

Rare Earth Magnets

are widely used in many fields, such as motors, sensors, microphones, wind turbines, wind generators, VCMs in hard disk drives, printer, switchboard, loudspeakers, magnetic separation, magnetic hooks, magnetic holder, magnetic chuck, common daily use, and so on.

Great Magtech Electric offers excellent selection of

magnetic assembly, magnetic tool and magnetic equipment

for home use, office use, industrial use, computer use and so on. Both our office and factory are located in Ningbo which is very developed city and very big seaport.





We provides you an extensive range of

magnetic assembly, magnetic tool and magnetic equipment

.

Containing our excellent original design, every product is elaborately produced by our factory. When you use them, you feel so comfortable and wonderful. These tools and assemblies are widely used in your daily life by helping you clean scrap iron and other debris, lift up heavy items and fix objects firmly. And they even have more functions you've never thought of.




We appreciate your enquiry and we will give you incomparably good product and services.
Welcome to be our distributor. The high quality of our products and the considerate after-sale service will make your business more and more prosperous.



If you want to purchase magnetic assembly, magnetic tool and magnetic equipment, please feel free to contact us.
Some Coatings of Rare Earth Magnets:

Surface

Coating

Thickness (Microns)

Color

Resistance

Passivation

1

Silver Grey

Temporary Protection

Nickel

Ni+Ni

10-20

Bright Silver

Excellent against Humidity

Ni+Cu+Ni

Zinc

Zn

8-20

Bright Blue

Good Against Salt Spray

C-Zn

Shinny Color

Excellent Against Salt Spray

Tin

Ni+Cu+Sn

15-20

Silver

Superior Against Humidity

Gold

Ni+Cu+Au

10-20

Gold

Superior Against Humidity

Copper

Ni+Cu

10-20

Gold

Temporary Protection

Epoxy

Epoxy

15-25

Black, Red, Grey

Excellent Against Humidity & Salt Spray

Ni+Cu+Epoxy

Zn+Epoxy

Chemical

Ni

10-20

Silver Grey

Excellent Against Humidity

Parylene

Parylene

5-20

Grey

Excellent Against Humidity, Salt Spray. Superior Against Solvents, Gases, Fungi and Bacteria.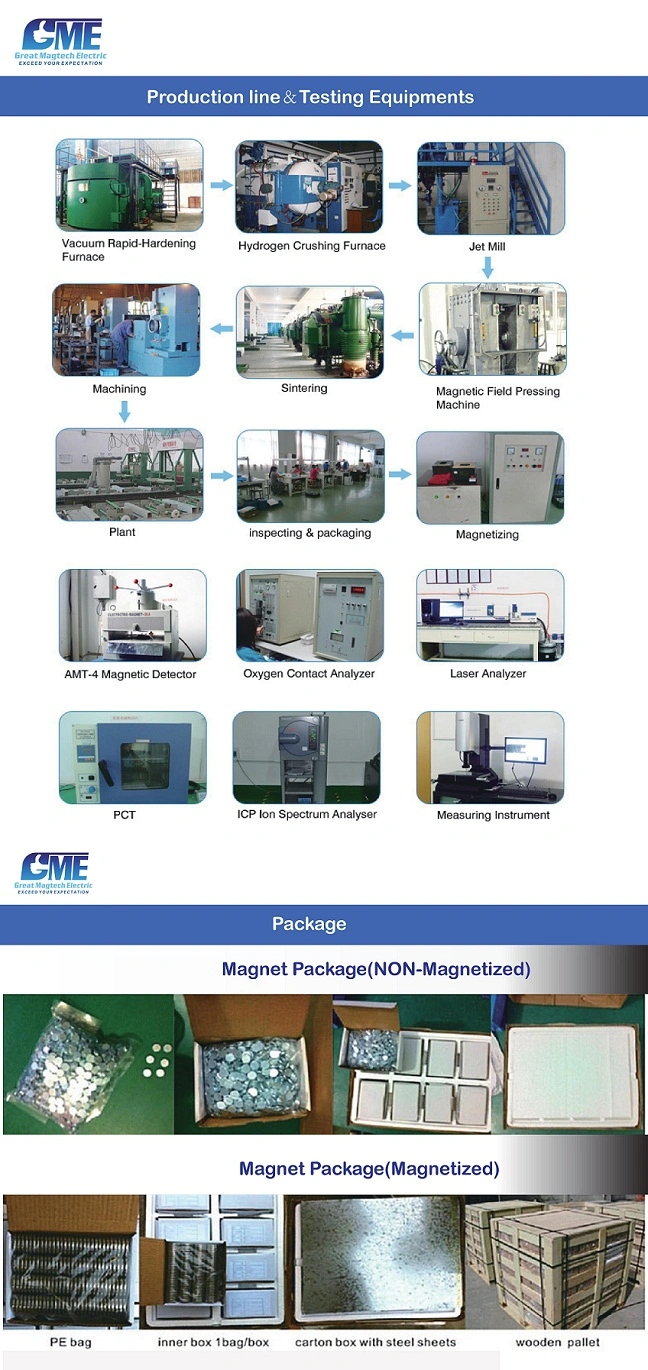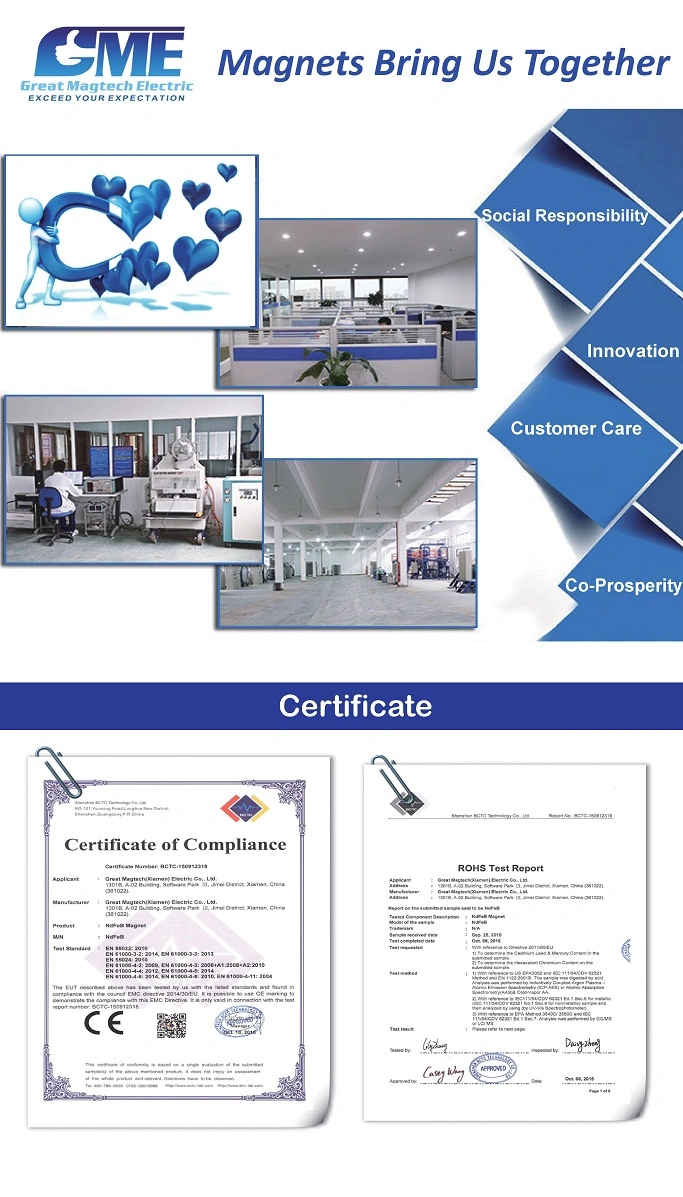 FAQ:
1. Q:What information do I need to supply when I have a inquiry?
A: If you have any inquiry, please kindly advise the following items:
Dimensions or drawing with tolerances.
Material grade or magnetic properties.
Magnetic direction.
Surface coating(if necessary).
Quantity and delivery terms.
2. Q:What equipment do you have?
A: We found China Jiliang University Sheensen R&D center in our plant, with advanced R&D equipment, such as Particle size analysis, Angler deviation tester, ICP, Hast Tester etc from Germany and Japan.
3. Q: What about OEM and ODM?
A: OEM and ODM Accept. We have our best designers, we can produce any design you wanted to meet your needs.
4. Q: What about the sample time and charge?
A: (1) 7-10 days if you want to customize your logo, charge according to your design
(2) 3-7 days for our existing samples for reference
5. Q: What about the delivery time of our products?
A: Fast Delivery when you choose the item and decide your design, we can produce it as fast as possible, and deliver it as quick and convenient as possible.
6. Q: Could you provide me the shortest lead time?
A: We have materials in our stock,if you really need, you can tell us and we will try our best to satisfy you.
7. Q: How to pay you?
A: T/T in advance(telegraphic transfer-bank order), for small order, or samples order, or shipment by air.
T/T, PayPal,Western Union cash - for small order or samples order.
Other payment: L/C,D/A,D/P,MoneyGra,Paypal or Escrow.
8. Q: Do you accept feedback?
A: Of course, we accept any feedback about our Quality, Service, Market Feedback& Suggestion. And we'll do better.
9. Q: Could I pay a visit to your factory?
A: Yes, of course, if you need, we will help you visit our factory.